OUR TEACHERS
The Robin's Nest is very proud of its fun and talented team of teachers who bring enthusiasm, compassion and expertise to their work and are beloved by all of the kids and parents who go through our program!
Mrs. McDonald, Head Teacher
Kathy became the Head Teacher for The Robin's Nest in September of 2008, and has gained the love and confidence of every child and parent who she has served in this position.

Kathy graduated from SUNY Plattsburgh with her BS degree in Elementary Education (Nursery-9th grades) with a concentration in mathematics. After locating to the Lansing area, Kathy worked as a First Grade and Kindergarten teacher for several years in the local schools. During that time, Kathy earned her MS degree in Reading Education from SUNY Cortland.

After the birth of her third child, Kathy decided to alter her path and became a stay-at-home mom. While busy at home with her own 4 children, Kathy kept her love of teaching alive by tutoring children of various ages and volunteering in her own children's classrooms.

When her fourth child entered Kindergarten, Kathy accepted the position of Head Teacher at The Robin's Nest Christian Preschool. Now in her seventh year as Head Teacher, Kathy looks forward to the beginning of each new school year with enthusiasm when she can welcome another group of children to The Robin's Nest. Kathy's admirable teaching skills, her love for children, and her faith commitment all come together to make her an excellent and cherished Head Teacher for all of our students. She is loved by both our children and their parents alike.




---
Miss Carla, Assistant Teacher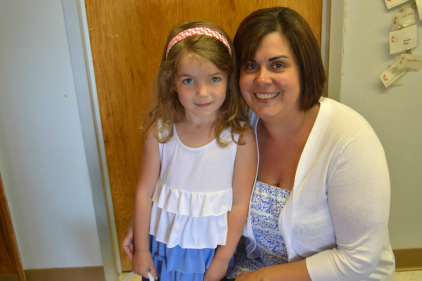 Carla Smith joined The Robin's Nest Christian Preschool faculty September 2013 as an assistant teacher. Carla joins our faculty with a variety of experience in working with preschoolers. As a parent, Carla has endorsed the curriculum provided at The Robin's Nest by entrusting her own three children to the nurturing environment and teaching skills provided there. Her passion for the school and her knowledge of its program made her a valued choice to fill this faculty position.

Carla graduated from Buffalo State College with a degree in Business Management which translated into a 10 year position with Dick's Sporting Goods as the District Visual Coordinator. Traveling within the United States opening new stores provided her with a breadth of organizational and personal relations experience which allows her to serve The Robin's Nest in a variety of ways.

As a preschool Sunday School teacher, Carla gained practical wisdom within a classroom setting which broadened her experience in handling a multitude of situations and demands. Coupled with her faith and love of children, Carla's attention to detail, organizational strategies, and calm and gentle demeanor make her a valuable asset to our teaching staff.



---
Mr. Keefe, Music Teacher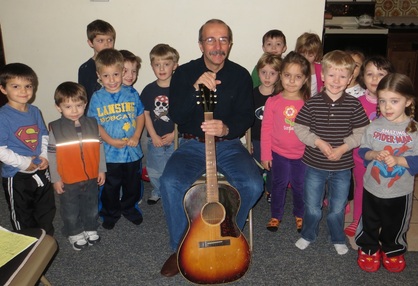 Bob Keefe, musical performer, teacher and composer, holds a Ph.D. in composition from the University of North Texas (formerly NTSU) and has over fifty works to his credit, including three works for orchestra, two rock musicals, and a string quartet. Bob has held artist residencies at the MacDowell Colony, Yaddo, and the Millay Colony for the Arts.

For the past twenty-plus years, Bob has maintained an active guitar studio in the Ithaca and Lansing, New York area. He currently teaches at McNeil Music in Ithaca, New York. Also for the past several years, Bob has been delighting pre-school and Lansing Elementary School children with his personal take on children's music. Since 2005 he has worked closely with The Robin's Nest Christian Preschool ensuring that children's music is an integral part of their pre-school education. His gift in music, his love of working with children, his faith, and his willingness to go beyond the expected has made Bob a valued and cherished part of The Robin's Nest faculty.


Bob states that he enjoys what he does, and he could not imagine doing anything else! We feel extremely blessed to have him as part of our faculty.




---
---
OUR FACILITY
Robins spend most of their time in the school's two bright and cozy, child-centered classrooms. Filled with artwork and learning tools, these rooms offer a safe place to explore, create, listen to stories and have fun! The sun-lit, large activity room is where music class is held and also provides invaluable additional space for extra "centers," large motor-skills activities, holiday parties, rainy day games, and on occasion is used as a gathering place for parents to meet, share ideas and get to know one another. When weather permits, students spend the end of the day outside on the extensive playground, nestled in the backyard trees.